REAL Trim Carpenters, REAL Quality, REAL Finish Carpentry by KC WOOD
Services Include:
Iron Spindle Replacement • Crown Molding • Door Installation • Staircase Installation • Window Trim • Mantles & Mantle Kits • Boot Boxes • Carpenter for Hire • Hardware Installation • Faux Beams Installed • Window Seats • Mud Bench • Bookcases • Columns • Vanity Mirror Trim • Closets • Attic Access Panels & Doors • Hidden Doors • Hidden Hallways behind Bookcases • Paneled Vaulted Ceilings • Ceiling Beams • Wainscot Paneling • Library Paneling • Plant Ledge • Pantry Shelving • And More…
General contractors can feel like their trim carpentry is being professionally installed when KC Wood is on the job. Owner, Steve Jones, personally supervises many of the projects – preferring to manage the crew from the job site instead of the office. Builders and general contractors find it very convenient when their trim crew has a cabinet shop. At KC Wood – the bookcases, fluted columns, paneled columns, mantles, tub-faces, shutters, window pediments, and many more items are built in our shop. We build there because it is more efficient and builders and general contractors like it because they get cabinet shop quality from their trim crew. Our shop has become so efficient on some of these items like fluted columns, that we even supply Millwork Distributors where we are listed as a manufacturer.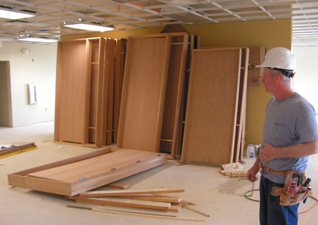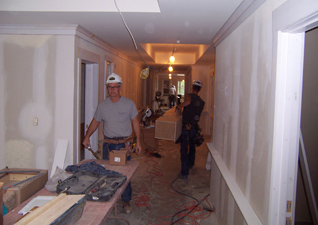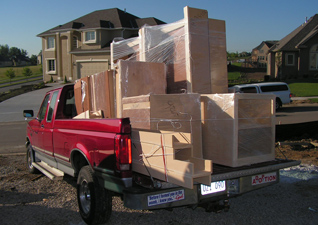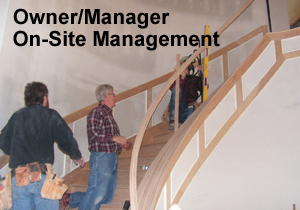 Our carpenter 'on-site' professionalism is a priority. People say sometimes that we are the best, I say we've just been trained by the "best" builders in town.The KC Wood trim crews have another distinct advantage over other crews – we have a cabinet shop. Our shop performs many daily routines that increase our quality, capabilities, and efficiency. From upper-bracket to entry-level homes, KC Wood maintains quality.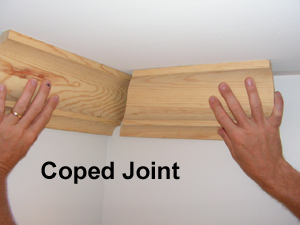 Our quality is very important to our clients. Some of our policies include – all joints are coped, all joints are tight (even if it paints), base is nailed tight to the wall, and closet shelving cleats are reinforced with 'hand-drive' nails.A coped joint is shown to the left. It is a 7″ crown which is an unusually large crown but can still be coped. Coping is always a superior inside joint method for crowns, chair, decca, and base moldings.